PARIS.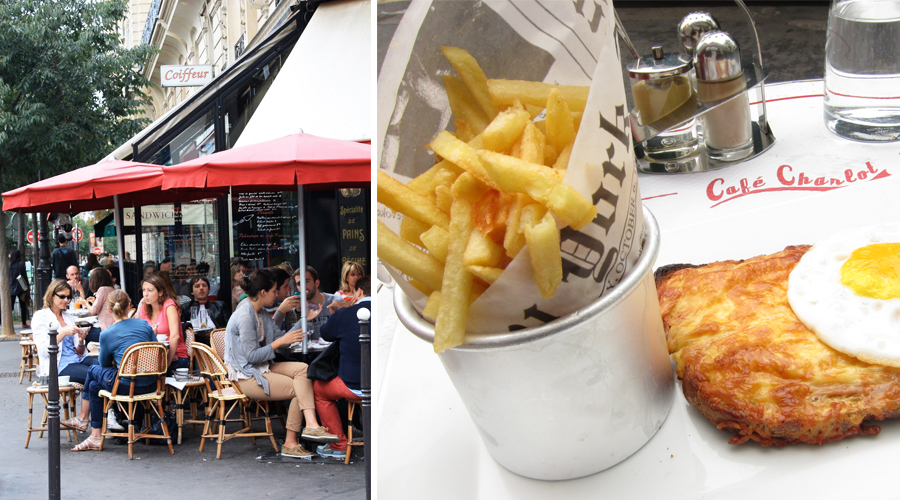 Café Charlot.
Looking for a classic French brasserie serving good simple fare? You cannot go past this hotspot.
Café Charlot
38 Rue de Bretagne
3rd arrondissement
www.cafecharlotparis.com
If you want to feel like a hip local who lives a carefree creative lifestyle in the Marais then I suggest you spend an afternoon or evening at Café Charlot. Located in the heart of the hipster shopping zone and just a few steps away from Isabel Marant's flagship boutique, Charlot is exactly what one expects from a Parisian Brasserie.
With its subway tiled walls, dark wood panelling, small round table tops and pavement dining, Charlot exudes old world charm. This place is always bustling with great eye candy. On a sunny day be prepared to wait at least half an hour to secure your teeny table on the pavement, but rest assured the wait will be worth it.
Charlot serves the type of unpretentious food that I long to find here in New Zealand. Kick off with a dozen of the capital city's favorite delicacy – escargot, and soak up the excess butter with a soft and delicious baguette. Then move onto Charlot's infamous bacon cheese burger. This is not to be confused with a dodgy 'Royal with Cheese', this is what real bistro burgers should taste like. Medium rare meat served inside a soft brioche bun with just the bare, yet essential, necessary additions of iceberg lettuce, tomato and gherkin. In true casual Parisian bistro style, much of the fantastic wine is available here by the half carafe here. But don't be fooled, this is really decent wine, not crap from a cask. On a hot sunny afternoon I would highly recommend the Côtes de Provence Rosé . But forget ordering a half carafe….you're just kidding yourself.
Tweet
Pin It