MELBOURNE.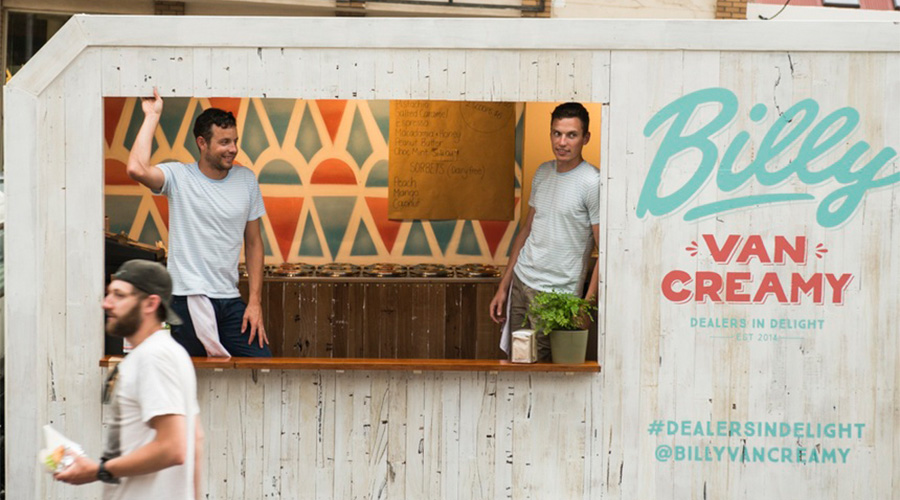 Billy van Creamy.
Melbourne's first all-natural artisanal gelato truck is well worth a stalking.
Billy van Creamy
www.billyvancreamy.com.au
It took brothers Alex and Mitch Wells a concept, an ice-cream maker, a course with Gelato Messina and a lot of practising to kick start their ice cream truck venture but as soon as they decided to make gelato minus the synthetic stabilisers and emulsifiers, things took a turn for the better.
Using just five ingredients: the base flavour (e.g. fresh mint or roasted hazelnuts), Demeter milk, cane sugar, cream and an egg-yolk stabiliser, the gelatos are then stored in a pozzetti system - a large freezer with removable insulated pots, which maintains the gelato at minus 12 degrees. Featuring 12 flavours, including pistachio, hazelnut, macadamia and honey, salted caramel, espresso, coconut and peach, the only downside of this system is that one is robbed of the visions of generous gelato swirls waiting to be devoured. But before you walk on by in favour of the gelato parlour with a glass display case of copious treats, know that flavours that sit in neat, well-formed lumps have almost certainly had the gelato equivalent of a boob job, using synthetic stabilisers to keep them unnaturally perky.
To locate this delightful mobile, picket-fenced gelateria, simply follow Billy van Creamy on Twitter here.
Tweet
Pin It