QUEENSTOWN.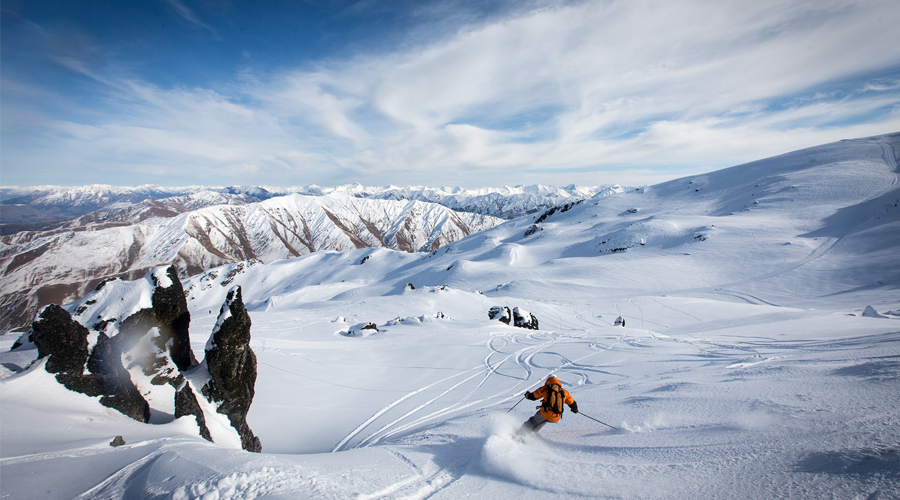 Soho Basin.
This private backcountry ski field is skiing unlike New Zealand has seen before.
Soho Basin
www.sohobasin.com
For those looking to truly escape into the backcountry, the exclusive Soho Basin is the finest way to experience skiing in the Southern Hemisphere. A private ski area tucked just up the road from Cardrona, the pristine high-country terrain and partnering views are unparalleled.
A mere 10-minute helicopter flight or 60-minute drive from Queenstown, there are no chair lifts or tows at this upscale field. Instead, guests are ushered into heated snowcats then tracked up to the mountain's various peaks. With 264 hectares of ungroomed backcountry to be explored, varied runs from gentle slopes to powder bowls and chutes, as well as an extremely limited number of guests allowed on the field per day (no more than 24), Soho Basin is the opportunity to indulge in Queenstown's finest off-piste snow — without having to hike.
Demonstrating a comprehensive approach to outdoor adventure, when appetites pique Soho's alpine hut offers salvation. Blissfully satisfying with wine and cuisine curated by Amisfield Bistro, the delectable fare is bettered only by its impeccable position, perched on the side of the mountain with breathtaking vistas across the snow-cloaked hills.
Tweet
Pin It