AMSTERDAM.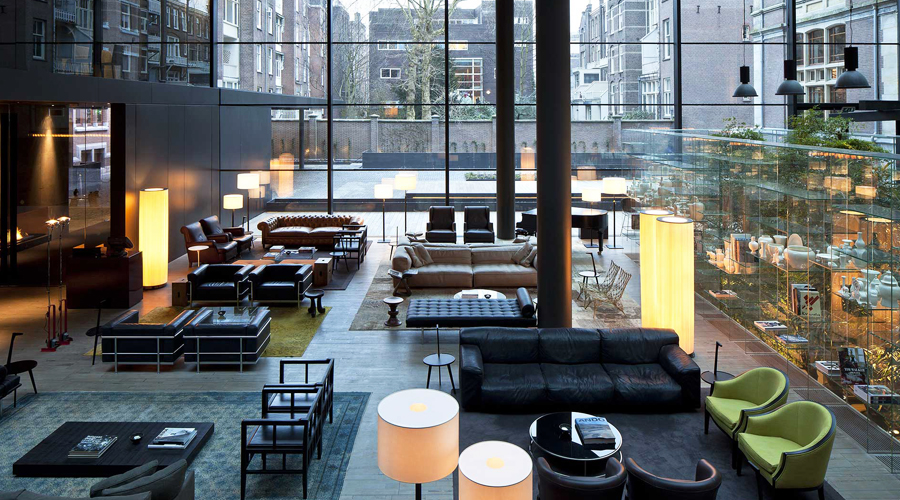 Conservatorium Hotel.
The transformation of one of Amsterdam's most iconic buildings results in a one-of-a-kind hotel.
Conservatorium Hotel
Van Baerlestraat 27
Museumkwartier
+31 20 570 0000
www.conservatoriumhotel.com
The meticulous transformation of one of Amsterdam's most iconic buildings, the premier music conservatorium by world leading furniture designer and architect Piero Lissoni has resulted in an ambitious new five star luxury hotel. Combining the classic nature of the building with a contemporary aesthetic, Lissoni has paid homage to the building's history while adding his own modern touches such as exposed steel beams and a glass covered atrium. Throughout the hotel soothing classical music echoes through the vast ceilings, paying tribute to the building's previous tenants.
With multiple social spaces, including three cafés, a restaurant and bar all furnished with iconic design pieces from some of the world's most coveted furniture manufacturers, the Conservatorium oozes European glamour.
The 129 guest rooms offer luxurious respite for the weary traveller with over half configured as large duplexes with exposed beams and over sized windows that let in the natural daylight. Since opening earlier in the year Conservatorium has attracted international travellers and locals alike who have been flocking to this new mecca of modern luxury.
Tweet
Pin It