BARCELONA.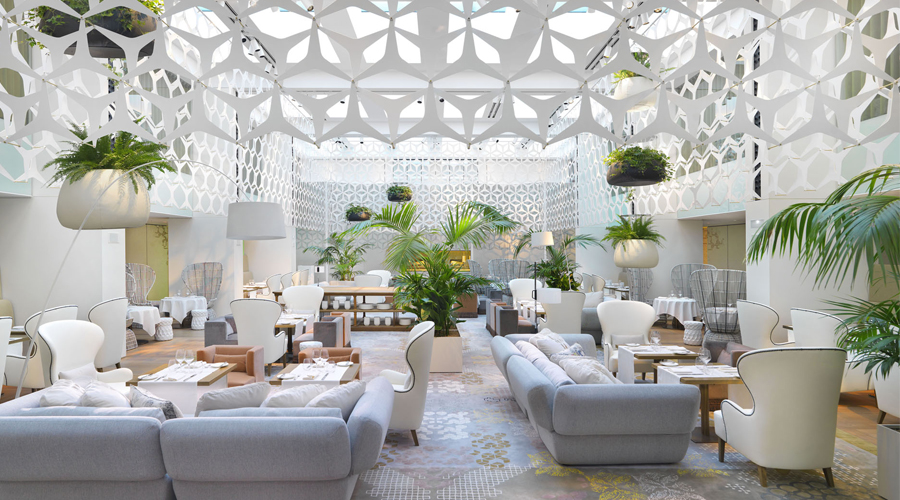 Mandarin Oriental.
Iconic Spanish designer Patricia Urquiola lends her expert talents to this impressive new addition to the Barcelona scene.
Mandarin Oriental
Passeig de Gràcia
Eixample
www.mandarinoriental.com/barcelona
The first foray into Southern Europe by the luxurious Mandarin Oriental hotel group is in Barcelona. The hotel consists of 98 rooms, an array of restaurants, a rooftop pool that provides a panoramic view of Barcelona, and a lavish 1,000 square metre spa.
The highly stylised hotel interior showcases enduring contemporary design at its most sophisticated. Housed in a redeveloped mid-20th century building, the hotel is conveniently located on Passeig de Gràcia, right in the centre of Barcelona's entertainment and commercial districts. The history of the building is evident from the outer façade which includes remnants of the former bank building it once was.
Entering the hotel you are overwhelmed by the exquisite white metal cut out screen details that frame the lobby and these details are continued as a recurring signature throughout the hotel.
Designer Patricia Urquiola has ensured that the Mandarin Oriental Barcelona has a fluid and timeless appeal. The warm palette of the lobby extends through to the public areas and out to a relaxed internal Mimosa garden for the all important al fresco dining experience. The use of white and neutral undertones exudes relaxation, while a richness is added by subtle glimpses of glowing gold and yellow.
Tweet
Pin It